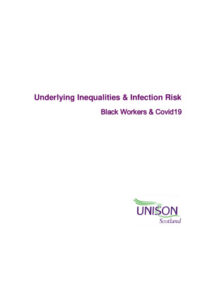 UNISON is calling for urgent action from both the Scottish and UK governments to recognise the increased risk of infection and death amongst Black workers, to provide assurance that action will be taken and to commit to a series of urgent interventions under a rolling Covid-19 Race Equality Action Plan.
This comes on the back of clear indications are that Black workers are over four times more likely to die from Covid19 than white people. Of the first 100 deaths in frontline health and care jobs around 70% were Black, Asian or minority ethnic workers.
This has been a major concern for UNISON Scotland, and with this in mind we have paid particular attention to the views of the Black workers who responded to the  recent UNISON survey of health and social care staff.
The results – are stark revealing a workforce that is in more fragile employment and in a less secure position than their white counterparts. They are as a result, less likely to raise safety concerns and more fearful of infection than other workers.
As a result UNISON is demanding urgent action to address these concerns.